So get sprouting!
Sprouting seeds, pulses, beans & grains is an easy & economical way of growing your own fresh food all year round.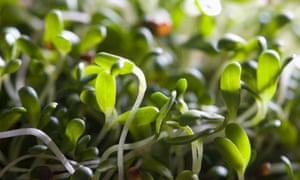 At this time of year, in the 'hungry gap', when local seasonal vegetables are scarce & the choice is limited, sprouting at home is a good alternative to relying on imported fresh produce.
Sprouted seeds, pulses, beans & grains are very nutritious. You also get a tasty crop very quickly…  depending on what you are growing, your sprouts will be ready in 3-8 days.
At Coachwerks Wholefoods we stock a wide range of organic seeds, pulses, beans & grains that you can sprout at home… Chickpeas, lentils,  mung & aduki beans & buckwheat groats & so on.  These will all produce different kinds of sprout, with different tastes & textures. For example, mung beans produce a sprout that's great in stir fries.
We also stock a great Sprouter, that will make your adventures in sprouting even easier.
This Sprouter only costs £7.46, it's sturdy & will last you a really long time…  I've had mine for years!
It's got 3 sprouting trays (so you can grow 3 different things at once if you want). These are are slated, so the water can run through & there's a green drip tray, to catch any overflow.  It comes with full instructions, alfalfa seeds to start you off & there's a nutritional chart on the box.
Happy Sprouting!